A NEW GENERATION OF SAN FERNANDO VALLEY MURALISTS COLOR THE CITYSCAPE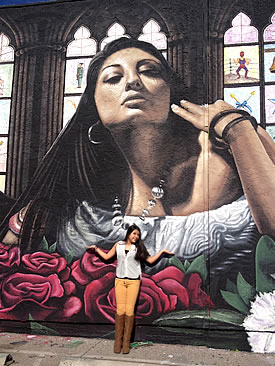 It takes mettle to work under the scorching San Fernando Valley sunshine, but not even an epic heat wave that hit the West Coast this 4th of July weekend stopped a cadre of muralists from completing their mission: to finish a mural on the corner of Van Nuys Boulevard and Bradley Avenue in Pacoima. They had been there as early as six in the morning, only to retire as the sun sets, getting as much done as they could.
Two lucky walls gained notoriety because of their efforts -- both part of an insurance company's storefront. One wall shines a happy orange and blue as a beautiful Lady Liberty-esque figure looks benevolently onto Bradley Avenue. Her hair curls along, forming waves of water over which an American bald eagle flies. The mural wraps around the corner and changes into vista of a young girl releasing monarch butterflies into the horizon. The mural abruptly becomes 3-D as the pre-existing canopy over the store's back entrance doubles as the girl's skirt. It is a beautiful picture, but one that also subtly provokes questions underlying human and animal migrations. This is the newest addition to Van Nuys Boulevard's Mural Mile, a growing collection of drive-by artwork that add color and life to the neighborhood, created by an informal crew of artists under 30 years-old.
Levi Ponce, 26, is its instigator. Son of prolific muralist and sign painter Hector Ponce, he is a fast-talking charmer with an obsession for the art in his veins.
"If I knew what I was going into, I might not have been brave enough to do it," he says as we chat by the mural in-progress. Ponce has become the primary organizer for young muralists in the area, not by grand design, but by...