MEXICO'S PROTECTOR OF THE IMMIGRANT: JUAN SOLDADO "THE MIGRANT'S SAINT"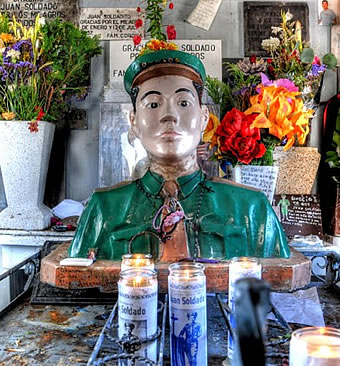 "I prayed and he got me to the other side."
Blocks from the U.S. border in Tijuana sits the shrine of Juan Soldado ("Soldier Juan") — local hero turned patron saint of undocumented migrants. His followers, who have decorated the shrine with candles, flowers, and photocopied green cards, credit him with miracles: blinding Border Patrol agents, guiding migrants through the desert, granting unlikely asylum applications. (The green-card copies are from successful emigrants who later returned to leave proof that their prayers had been answered.)
In 1938, the year Juan Soldado died, Tijuana was in crisis. The Americans who had once frequented the city's cantinas and casinos were no longer coming, thanks to Prohibition's end and a new casino ban. Soaring unemployment, exacerbated by mass deportations from the U.S., fueled unrest. When an 8-year-old girl was raped and murdered, the city erupted in rage. A suspect—or scapegoat—was promptly identified: army Private Juan Castillo Morales. With mobs threatening to lynch him, a military tribunal tried him in a single night, not stopping to check his fingerprints against crime-scene evidence. He was condemned to death by ley de fuga, a cruel ritual that compelled him to run toward the border while being targeted by a firing squad. Before he could reach U.S. soil, he was fatally shot in the back. When sympathizers tried to clean his blood off the ground, it could not be removed. Declaring this a miracle, they built a shrine atop his grave...