16th YEAR ANNIVERSARY OF THE LATINO LED LARGEST PROTEST IN U.S. HISTORY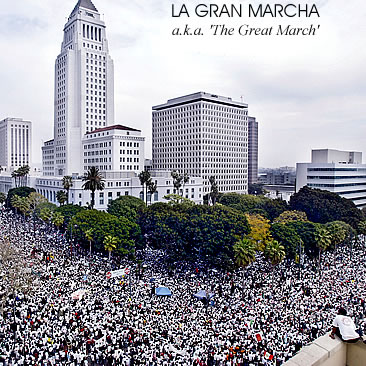 LOS ANGELES - Today is the 16th anniversary of the largest protest demonstration in U.S. history. In Spanish, it was officially known as "La Gran Marcha." In English, it is also affectionately called "The Great March."
For the throngs of people who were fortunate enough to have been present on March 25, 2006, they witnessed an unprecedented event of U.S. history that will undoubtedly never be forgotten. Amazingly to this day, 16 years later, it's an unfortunate fact that still very few people know about this day.
The obvious question is why? Why do so few know of this historic event?
The Largest Single Location Protest Event in U.S. History
As one of the organizers for this tremendously important event, I have been mulling over the question of why there is such a lack of exposure on La Gran Marcha (The Great March) for exactly 16 years now. It isn't as though the size of this historic march which began at 10am on the corner of Olympic & Broadway (See: original flyer) in downtown Los Angeles wasn't big enough. Both the faculty and students from three prominent universities: St. Mary's University of San Antonio, TX; San Jose State University (SJSU); and the University of Texas at Austin (UT); along with this publication and staff of Xcano Media have all conducted meticulous photographic analysis to determine that the crowd size was between 1.3 to 1.5 million attendees. This is a stark difference from the rash on-site estimate given by the L.A.P.D. of 500 thousand quoted in the Los Angeles Times. Nonthelesss, even with the smallest of estimate it was still a significant event.
So why is it that the mainstream media is still not talking about it? Why is it that La Gran Marcha is still not being taught about in any of the history books of U.S. schools? To be brief and to the point, it is the same reason that the civil rights issue of police brutality is mainly talked about from a perspective of black lives only. Mainstream media (inclusive of both news reporting and entertainment) and the U.S. educational system in general, primarily promote both a narrative and imagery centered around the white and black communities only. Additionally, when the U.S. Latino community is portrayed or taught about in the schools, it is generally done with an emphasis on immigrant labor and criminality featuring the most negative aspects of both. One of the most significant facts about La Gran Marcha is that it was 100% peaceful with no arrests. Maybe if it had been violent the coverage would have been there? Just sayin'.. c/s