A Groundbreaking TV Series About Chicanos, Stored 50 Years in a Garage, Reemerges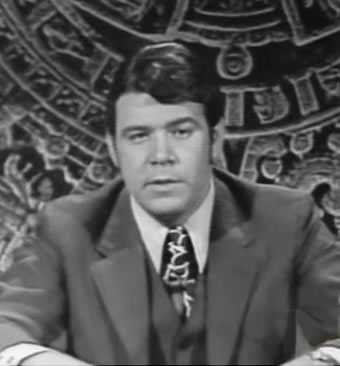 Every so often, Frank Cruz would walk into his spacious garage in Laguna Niguel and contemplate the boxes filled with things old and unused: tax returns, clothes and paperwork from his days as a Chicano studies professor, TV news reporter and anchor, co-founder of the Spanish-language network Telemundo and of a pioneering Latino-owned insurance company. Not to mention notes from the many boards he's served on, including the Corporation for Public Broadcasting.
But there was one particular big blue box — between another containing his now-adult children's baby teeth and one with a daughter's wedding dress — that always gnawed at him. Its label read: "Chicano Series."
Inside were nine 16-millimeter film reels of "Chicano I & II: The Mexican American Heritage Series," the television show that first aired on KNBC-TV in Los Angeles in July 1971. The series, hosted by Cruz when he was in his early 30s, also played on sister stations in Chicago, New York, Cleveland and Washington, D.C. For 50 years, the reels remained in his garage, largely untouched.
On a recent August day, Cruz, now 82, thought to himself as he had dozens of times before: "Pendejo, you better do something about those films. It might be too late."
And he did. His contacts led him to a film archivist at USC who digitized the film and created a website for them. For the first time since they aired and reran in the early 1970s, nine of 20 episodes from the Chicano series are now publicly available on the website for USC's Hugh M. Hefner Moving Image Archive. (No film exists from the "Chicano II" portion of the series, and Episode 6, titled "The War Years," was missing from Cruz's first-volume holdings.)
"I was prepared to hear that [Dino Everett, the archivist] wasn't able to do it because the film was too brittle, that they had broken and that they were no good because the images fade," says Cruz. But a couple weeks later, "after 10 candles and a prayer to Santo Niño de Atocha, he called me and said, 'Frank, I've been able to transfer them.'" Cruz was elated. "We're preserving history."
They Challenged Boundaries
The East L.A. walkouts of 1968, followed by the assassinations of Robert F. Kennedy and Martin Luther King Jr., both beloved by much of the Latino community, happened months apart. Then came the Chicano Moratorium of 1970 and the killing of Ruben Salazar, an esteemed reporter for the Los Angeles Times.
Out of this period of social and political activism, and fed up with the stereotypical depictions of Latinos in media, Sal Castro, a key leader in the historic walkouts, and Julian Nava, the first Mexican American voted to the Los Angeles Board of Education, approached Los Angeles' KNBC-TV with a pitch: to create a show that explored issues facing the Mexican American community and examined history and culture from the Chicano perspective.
The station agreed to air the show. Cruz, a former Lincoln High School teacher and colleague of Castro's, who was teaching history at Cal State Long Beach at the time, agreed to host the series after Castro declined. Cruz's "yes" would change the course of his professional life. After the 1971 series reran in 1972, the news director of KABC-TV called Cruz offering him a reporter job covering L.A.'s Latino community.
"Chicano I & II" episodes were put together by professors, historians and experts — many of them founders of their universities' Chicano studies departments, including UCLA, Stanford, San Jose State and San Fernando Valley State College (now Cal State Northridge). Among the topics they examined were the history of migrant workers and Chicano labor activities, economic repression and education inequality, as well as the many cultural and other contributions of their Mexican ancestors to the Western world, "'Stereotyping in the Mass Media,' I mean you could write a headline with that today!" Natalia Molina, a professor of American studies and ethnicity at USC, says about one of the episode's titles. The series, she says, was trying to show that "Mexicans aren't docile, that they're people. They're like you and I. They live lives in three dimensions. They have families. They create...