Dominick Reyes Beats Jon Jones On Punches Landed But Is Denied Championship Belt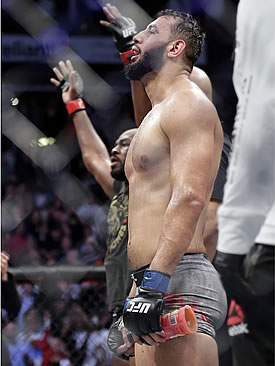 HOUSTON - Dominick Reyes, nicknamed "The Devastator" for his calamitous kicks, was born in Hesperia, CA and has been training at his brother Alex Reyes' Cage Combat Academy in nearby Victorville for the Light Heavyweight Championship belt at UFC 247.
Last night when he entered the ring for his fight with current Light Heavyweight Champion, Jon Jones, he knew it would be a tough assignment given the tenacity and record of his opponent, who is also ranked as the UFC's #1 "Men's Pound for Pound Champion." But, he wasn't sure if he'd have to be fighting with the wrongful doings of scoring officials sitting at ringside as well. As it turns out, he did have two fights at hand. One was purely physical. The other was not. In the end, he inexplicably, rather mysteriously, lost on both fronts.
In a fight where nearly every major commentator of the sport clearly saw Reyes winning the first three of a five round fight - in addition to: outscoring the champion on the number of punches landed, never being hurt or even close to being in any type of danger of being knocked-out; Reyes was denied his moment of glory to be called the new champion.
The decision didn't go over well with a large number of fans in attendance who certainly felt Reyes had done more than enough to win the championship title. As Jones was presented his championship belt a cacophony of jeers and booing could be heard from the seats.
Dominick Reyes was also given his first professional fighting loss taking away the ability to still call himself an undefeated fighter. Hopefully, he'll be given an opportunity for a rematch. As, many MMA observers are presently feeling he should have been called the undefeated Light Heavyweight Champion last night.