CLAUDIA SANDOVAL DELIVERS 'NOUVEAU' MEXICAN CUISINE FOR MASTERCHEF WIN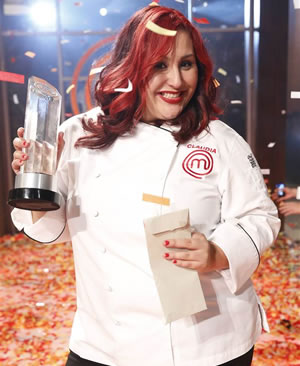 One year ago Mexican-Amerian chef Claudia Sandoval worked tirelessly to pay the bills, but recently her life changed forever after she won the the reality TV cooking competition MasterChef.
"People take it lightly when I say it, but a year ago, my daughter and I were sleeping in the same bed together in a one-bedroom apartment in La Mesa, California," Sandoval said. "I was struggling, trying to figure out how to pay rent."
Sandoval credits her win on a lifetime of exposure to people and cultures from around the world. She said travel back to Mexico to visit family and time with friends from the Dominican Republic taught her to mix techniques to create a "nouveau" style the judges had not tried before.
"One of the things that set me apart was not my ability to recreate food from around the world, but my ability to circle back and create dishes that weren't just fusion," Sandoval said. "I used techniques from other cultures while using Mexican ingredients."
Sandoval, a first generation Mexican-American, grew up in La Mesa, California with her mother and three siblings. While at home, and on frequent family trips to Mazatlán, Mexico, Sandoval learned to cook home-style Mexican food alongside her mother.
"While I was growing up, my mom made sure I learned to cook all the recipes she knew," Sandoval said. "My mom lost her mother when she was very young, so she told us that she would not be around forever."..