GETTING TO THE BOTTOM OF THE CHICANO SUBCULTURE COVERAGE IN JAPAN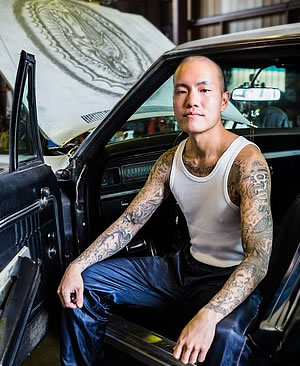 Over the past month and a half, a number of Western media outlets have revisited a topic that has long been a hit for online publications.
In late February, The New York Times published "Inside Japan's Chicano Subculture," a video documenting a niche group in the country that is building an identity around a culture created by Mexican-Americans.
Journalist Walter Thompson-Hernandez traveled to the archipelago to interview many of the people involved in the subculture, ranging from those in the nation's lowrider car community to Chicano-inspired musicians. The video also explores the producer's own identity and it has performed extremely well. As of writing, it has attracted almost 3.7 million views on YouTube. Just as important, it set off a wave of exposure from all sorts of sites, ranging from The New York Times to Yeezy sneaker updates, Hypebeast.
A short time later, uploads from other media companies on the same subject started to appear on YouTube. Refinery29 examined the issue in a video that was twice as long as The New York Times' clip in a piece titled "Why Japanese Women Are Dressing Like Chicanas," while CNN-owned entity Great Big Story offered up "How Chicano Lowrider Culture Found a Home in Japan" just a few days after the Times' creation. An article about Chicano culture popped up on Jalopnik before any of the others came out, but failed to leave much of an impression.
However, this issue certainly isn't new to Japan. California alt-paper OC Weekly wrote about lowrider culture and Chicano rap in...