TEXANA READS: Baseball Has Deep Roots In El Paso's Mexican American Community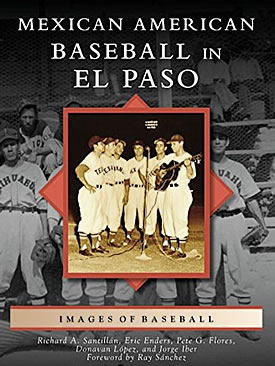 EL PASO, TX - The books on baseball and its importance to the Mexican American communities, in particular of the American Southwest, continue.
The latest offering, "Mexican American Baseball in El Paso," certainly covers a multitude of facts about baseball in that historic border city, but it also features chapters about baseball in Texas, the nation and South Texas.
Kingsville native Donavan López wrote the chapter on "The King Ranch" and its baseball legacy. He included iconic pictures of many of the top teams in Kingsville and the Coastal Bend and peppered his writing with vignettes about the people who made semi-pro baseball so popular in South Texas from the 1930s to the present day.
The pictures of the South Texas teams are priceless. Those who are familiar with the popularity of baseball in the area will travel through memory lane when all that mattered was how your home team fared against the team from a neighboring rancho. Laden with vaqueros and boys anxious to prove their worth with the "veteranos," most of these athletes did not play for money. Rather, they competed for camaraderie, recreation and as a way to challenge the notion that Mexican American players were "not good enough."
They were, "good enough," and they proved it every weekend on the diamonds of semi-pro baseball fields scattered from Agua Dulce to Palito Blanco and every ranch in-between, including at famous Assault Field on the King Ranch.
López's segment is made special with team photographs of the 1936 Kingsville Cardinals, the 1949 King Ranch 7-Ups and Lions, the 1953 and1954 King Ranch Cowboys, the 1961 Bishop Wildcats, the 1956 Laureles-Chapman Cowboys and the 1959 Kingsville Wildcats, to mention a few.
There are individual photos of players like Tulles Sánchez from the 1945 Missouri-Pacific (Railroad) All-Stars and Alberto Garcia from the 1955 Kingsville Toros. Two legendary South Texas umpires – Luis Canales and Joseph L. Cusak – are also featured in López's King Ranch segment. Cusak has been umpiring games since 1958. Still does...