DOCTOR COMPARES CONDITIONS AT IMMIGRANT CENTERS TO 'TORTURE FACILITIES'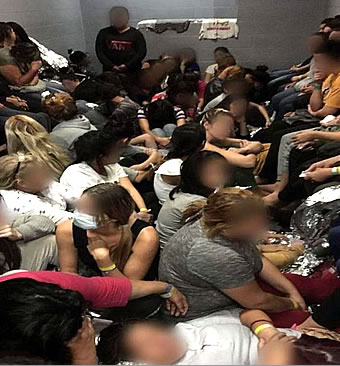 From sleeping on concrete floors with the lights on 24 hours a day to no access to soap or basic hygiene, migrant children at least two U.S. Customs and Border Protection facilities face conditions one doctor described as comparable to "torture facilities."
The disturbing, first-hand account of the conditions were observed by lawyers and a board-certified physician in visits last week to border patrol holding facilities in Clint, Texas, and McAllen, a city in the southern part of the state.
The descriptions paint a bleak image of horrific conditions for children, the youngest of whom is 2 1/2 months old. "The conditions within which they are held could be compared to torture facilities," the physician, Dolly Lucio Sevier, wrote in a medical declaration obtained exclusively by ABC News.
Lucio Sevier, who works in private practice in the area, was granted access to the Ursula facility in McAllen, which is the largest CBP detention center in the country, after lawyers found out about a flu outbreak there that sent five infants to the neonatal intensive care unit.
After assessing 39 children under the age of 18, she described conditions for unaccompanied minors at the McAllen facility as including "extreme cold temperatures, lights on 24 hours a day, no adequate access to medical care, basic sanitation, water, or adequate food."
All the children who were seen showed evidence of trauma, Lucio Sevier reported, and the teens spoke of having no access to hand washing during their entire time in custody. She compared it to being "tantamount to intentionally causing the spread of disease." In an interview with ABC News, Lucio Sevier said the facility "felt worse than jail." "It just felt, you know, lawless," she said. "I mean, imagine your own children there. I can't imagine my child being there and not being broken." Conditions for infants were even more appalling, according to the medical declaration. Many teen mothers in custody described not having the ability to wash their children's bottle. And children who were older than 6 months were not provided age-appropriate meal options, including no pureed foods necessary for a child's development, Lucio Sevier reported. "To deny parents the ability to wash their infant's bottles is unconscionable and could be considered intentional mental and emotional abuse," she wrote.
The attorneys who represent the children threatened to sue the government if it denied a visit from a physician. They are part of a team working under the Flores settlement agreement, a 1997 ruling that stipulated detention standards for unaccompanied minors, including being held for less than 72 hours and in the "least restrictive setting appropriate to the child's age and special needs."
As part of that ruling, the lawyers, who are part of a class action lawsuit, represent all children in custody and, as such, are allowed to visit and interview them. Lucio Sevier has no connection to the lawyers aside from their request for a physician to be granted access.
The legal team, also from the Flores settlement agreement group, had negotiated access to the Clint facility in advance and officials from CBP knew of their pending arrival for weeks. The alleged conditions documented at the facilities follow a Homeland Security inspector general report that found "dangerous overcrowding" and unsanitary conditions at a different CBP facility in El Paso, Texas, where hundreds more migrants were being housed than the center was designed to hold. The El Paso Del Norte Processing Center housed as many as 900 migrant detainees earlier this month despite only having a recommended capacity for 125. The reports come as President Donald Trump continues to make immigration a staple of his administration and a key issue in his re-election bid. After threatening to deport more than 2,000 undocumented immigrants, and then extending the deadline by two weeks, the president on Sunday tweeted his intention to "fix the Southern Border." Later in the day, the president blamed his predecessor for implementing the policy of separating migrant. Trump said he ended the policy, too. "You know, under President Obama you had separation. I was the one that ended it," he told reporters. The Obama administration's policy only separated families in rare circumstances when the child's safety might be at risk.
Last April, the Trump administration and his attorney general at the time, Jeff Sessions, enacted a "zero-tolerance" approach that called for stepped-up prosecutions of any adult crossing the border illegally. As a result, 2,700 children were...