DEFYING TRUMP'S PROPOSED U.S. MEXICO BORDER WALL WITH TACOS & TEQUILA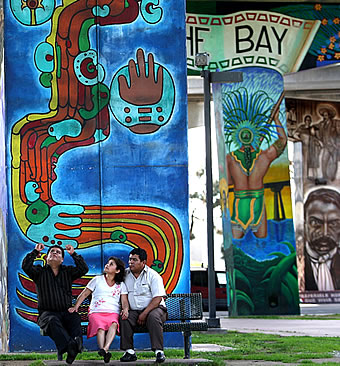 SAN DIEGO - "This is the best taco joint in the city," said Angel Miron, "It started by serving locals, but now people come from all over the country to eat here." Angel handed me a michelada (a Mexican Bloody Mary, made with beer rather than vodka), and laid out dishes of tacos (stuffed tortillas) and tostados (round, crispy, flat tortillas), bursting with shrimp or pork, and topped with avocado, onions, peppers and coriander.
¡Salud! is in Barrio Logan, San Diego's Mexican neighbourhood. Until 1848 the city (indeed, all of present-day California, Nevada, Utah and parts of four other states) was part of Mexico, and many families stayed when it became part of the US. It is also the first port of call for many Mexican immigrants.
"The area is a melting pot," Angel said, "So you get hybrid culture, and hybrid cuisine. Every week there's an article in the papers about Cali-Baja cuisine, which is basically a fusion of Californian and Mexican food."
The term Cali-Baja is derived from Baja California, the peninsula on the other side of the border, famed for its wine, fresh produce and seafood. Visiting San Diegans brought the flavours back to their city, including Trey Foshee, who founded Galaxy Taco in the hilly, ocean-side neighbourhood of La Jolla.
"American chefs have been doing taco crawls to Tijuana for years," he said, "But I would always go further south, because I surf. The bars and restaurants next to the beaches were great, and ...